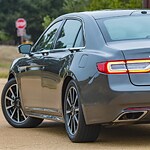 If you're on the market for a large sedan that possesses plenty of raw power, then you should definitely consider the 2020 Lincoln Continental. This full-size sedan has a sleek and sexy exterior and a spacious interior. Up to five persons can seat comfortably in the cabin.
The 2020 Lincoln Continental performs like nonother on the highway thanks to its exceptional balance and agility. There's Adaptive Cruise Control as well as Stop/Go technology. The vehicle's radar-based sensors will do a great job of helping the driver navigate through traffic. There are as much as 400 ponies that are crammed underneath the hood. In addition to that, the Continental produces upward of 400 pound-feet of torque. On-Demand power is delivered via the 3.0-liter turbocharged engine that just so happens to be a V6.
We urge all interested buyers to swing by our showroom for a first-hand viewing. Test drives are also available for serious buyers.