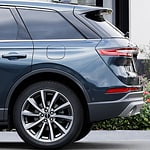 Crossover vehicles, which are essentially vehicles with features of both cars and sport utility vehicles, have become more popular over the past few years. That's probably because there are some benefits to owning one. Here are some reasons you should consider buying a crossover.
When comparing a crossover to a full-fledged SUV, there are a number of benefits. Crossovers are smaller and built on a car platform, which typically means they ride smoother, are easier to handle and get better gas mileage than an SUV.
When comparing a crossover to a car, the crossovers are slightly bigger and may be a bit safer. They also typically offer more cargo space than cars do, as well as more space for passengers, making them ideal for families with kids. If you are considering buying a crossover vehicle, come see the inventory at Diffee Lincoln in El Reno and let our professional staff help you.